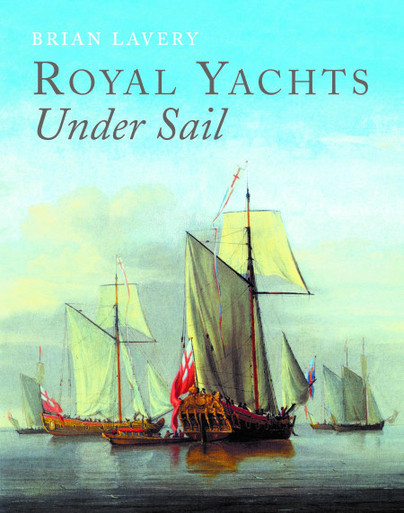 Brian Lavery, Seaforth Pubblishing, 2022
Royal Yachts Under Sail
From the time of the Restoration of Charles II, when he returned to England from Breda and was presented with the yacht Mary by the burgomaster of Amsterdam, Royal yachts began to be defined as such in England and built with that special purpose in mind. They were built luxuriously and used for royal visits to the fleet, for diplomacy and for racing and cruising for pleasure.

Charles II took more of an interest in the sea than any other English monarch. He built a fleet of royal yachts, fine examples of ship design and decorative art, and he can be said to have been the father of yachting and of royal yachts. His successors were less keen on the sea but travelled to Europe on missions of peace and war; and royal yachts took part in regime change several times. In 1689 Queen Mary was bought over to join her husband William of Orange and complete the 'Glorious Revolution'. In 1714 George I arrived from Hanover to establish a new dynasty. And in 1814, in a reverse process, King Louis XVIII was taken back to France to restore the monarchy after the defeat of Napoleon.

This important new book is the first to describe the building and decoration of the yachts in such detail, using many newly discovered sources; and it is the first to describe their uses and exploits, often taking their royal passengers into controversy or danger. Besides the yachts themselves, it reveals much about the character of the kings, queens and princes involved – the impetuousness of the future William IV for example, or his brother George IV's surprising love of sailing. It describes the design, accommodation, and sailing of the yachts, as well as their captains and crews.

Sailing yachts came to an end when Queen Victoria discovered that steam power was more efficient as well as more comfortable, but they revived in the form of her son Edward's cutter Britannia, and the Duke of Edinburgh's Bloodhound and Coweslip. Their legacy can be seen in the widespread sport of yachting today, and in the lavish superyachts of billionaires.

This beautifully illustrated book, full of anecdote and containing detailed descriptions of dozens of royal yachts, will fascinate naval historians, ship modellers and, indeed, anyone who sets foot aboard the deck of a modern yacht.
Spesso acquistati insieme
Naviga altre categorie